Top 10 Applications & Services for Small Businesses
Are you doing a good job managing your small business? Do you wish you could spend more time working on your products and less time on paperwork and logistics? Being successful in today's increasingly competitive world of business requires you to not only have great products and great marketing strategies, but also to use the best tools out there to help you save time and keep everything neatly organized. In this post we cover 10 of the best applications for entrepreneurs and small business owners who are looking for simple, cheap yet effective solutions to solving some of the daily tasks facing their business…
Google Apps for Business
(Access to over 60 applications!)


This is a no-brainer. Google Apps for Business is simply fantastic! Create your own branded email account for business (powered by Gmail), share documents, calendar events, etc. Have total administrative control over the accounts and create as many users as you want with different user rights and privileges. Google Apps also supports tons of additional applications that you can install in a click.

eVoice & eFax
(Communications made easy!)


We decided to count these two as one because they're from the same company, and besides, phone & fax generally go together! eVoice lets you set up your own 1800 toll free number. They even provide a professional welcome message recording service. You can also set up as many extensions as you want and have them forwarded to different phone numbers. eFax lets you easily send and receive faxes online! These two are a must for online and virtual businesses!

FreshBooks
(Top Class Invoice & Expense Management!)


Handle your invoices and expenses like a pro! FreshBooks lets you build your own branded billing system that you can connect with PayPal or your own Payment Gateway (Authorize.net, Beanstream, etc…). With FreshBooks you can also manage your expenses, add users and generate detailed reports of you earnings, expenses and clients. You'll love this application even more when tax season comes!

ShoeBoxed
(Amazingly convenient Receipt Management!)


Hate managing paper receipts? Shoeboxed is what you need. Once you sign up, you can install their iPhone app that lets you "scan" & digitize your receipts. The app then sends the receipt electronically to your ShoeBoxed account. They also provide you with a personal email address that you can forward your online receipts to. Fantastic for keeping track of all your receipts and extracting reports at the end of the year for tax reports.

HighRise
(Don't lose any lead!)


Great Lead & Customer Management for Small Businesses. Powerful and userfriendly at the same time! With HighRise, you can store every conversation, email, call, meeting, document, and deal you've ever had with a contact. With Highrise you'll always know who you talked to, what was said, and when to follow-up next. You can also create additional users, delegate tasks and much more.

AWeber
(Create & Manage your Mailing List with ease!)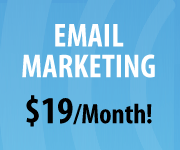 Email Marketing is still the most powerful form of Online Marketing. Recent studies from various Marketing agencies have shown that a message delivered by email has 66% more chances of converting than if it was delivered through a social network, chat or blogging. This is why you need a way to capture your website visitors' email addresses and AWeber is the perfect solution for this! User-friendly, powerful & Affordable.

BaseCamp
(Addictively Easy-to-use Project Collaboration!)


Great Project Management Tool for Small & Medium Businesses. It is also greatly useful for smaller groups within large organzitions. Instead of scattering emails all over the place, use Basecamp message boards to keep all the discussions about a project in one centralized location. You can even add users and specify who can see which messages. Powerful and user-friendly!

Box.Net
(Simple & Secure Document Management)


Box is a simple, scalable and affordable solution to manage documents, media and all your content online. Share files as a link. Sync files on the desktop. It's file sharing, reinvented. Manage content intuitively, Organize and view files in a familiar folder structure, Share large files securely, Share files and folders with web links, Sync files on your desktop and much more! Definitely a great way to store data.

Skype for Business
(Set up Free Conference Calls!)


Extremely useful if you're dealing with overseas clients. With Skype, you can organize conference calls and video calls and talk as much as you want, for free! With Skype you can also set up a Skype Phone Number, and you get to choose which country and area code you want your number to be in. Ideal if you want to have multiple phone lines in different areas. You can then redirect the phone number to any land line or cell phone.

GenBook
(Professional & Easy Appointment Scheduling!)


Handle your appointments with a breeze using GenBook. With the convenience of 24/7 online scheduling and a BookNow button that is simple to place on your Website, your email newsletters, Facebook page, your blog, and just about anywhere you'd like, Genbook turns your web traffic into confirmed appointments. Both you and your customers will love the convenience of GenBook.
Passionate about the world wide web since 1995, Amine has been working as a Web Developer, SEO & Social Media Marketing Specialist for several Organizations in the United States, Canada and China.
About us and this blog
We are a digital marketing company with a focus on helping our customers achieve great results across several key areas.
Request a free quote
We offer professional SEO services that help websites increase their organic search score drastically in order to compete for the highest rankings even when it comes to highly competitive keywords.
Do You Like Our Blog?
Subscribe to our Web Marketing Newsletter and Receive Exclusive Tips from our CEO. Sign up now.
Do you have an auto maintenance shop, garage, collision repair, or auto…